LIFELINE, communication platform for fast, direct and secure group communication
Discover Lifeline
Lifeline: for when life is literally on the line or deadlines need to be met there is no room for radio silence.
The ultra- reliable LTH-570 handheld device will provide you with uncompromising connectivity. Empowering you to dedicate your time and energy to finding fast and effective solutions to the unexpected problems that come your way.
Lifeline effortlessly connects people, enabling collective efficiency through seamless real time communication, whether over the 4G/5G networks or by interfacing with pre-existing narrowband systems.
As a result of a conscious development of the 'best- bits' of Tetra walkie-talkies and mobile radios the device has an air of familiarity. However the highly evolved audio quality, incredibly fast call setup time and unique new features make the using a walkie talkie as outmoded as using a chisel and stone tablet!
Lifeline offers every communication solution in one easy to use device. It utilises the flexibility of a simple communication app to a scalable platform to unite large teams, whilst creating a single talk group, multi-talk groups or conference calls with the simple touch of a button.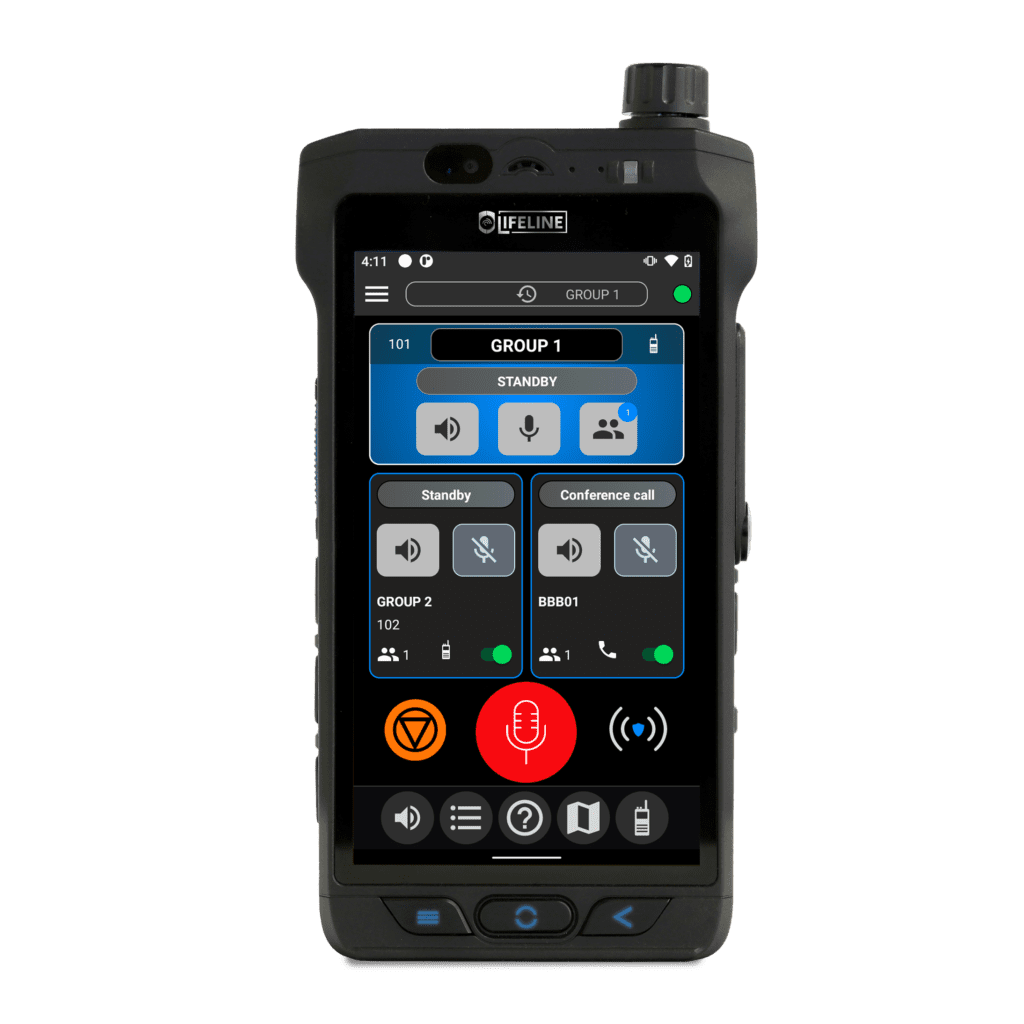 Safety is our number one priority
The Lifeline platform has been designed and developed in one of the principally cyber-secure environments in the world. Lifeline builds on the expertise that underpins the world renowned Dutch technology sector, whilst capitalising on input from its experienced international team and global community of end users.
Trailblazing the technology of tomorrow
The boundaries of human achievement are constantly being nudged forward and the Lifeline team are right there at the forefront, however the world does not all progress at the same speed. In taking the giant step to 4-5G push-to-talk technology, whilst incorporating the universally accessible functionalities of (TETRA) walkie-talkies and mobile radios Lifeline leaves nobody behind.
Who could have predicted the impact of the internet and the smart phone twenty years ago? The revolution that we see and experience is reliant on the effective and innovative advancement of work processes that sit in the background.
Lifeline's team are at the forefront of change, they have created a flexible and adaptable solution that is being continuously developed to ensure that it bridges the gap between the technology of the recent past, today and tomorrow.
Multi group mode
Experience the power of multi group mode
Status
Let colleagues know your current status
Dispatcher console
Full control from the central dispatcher tool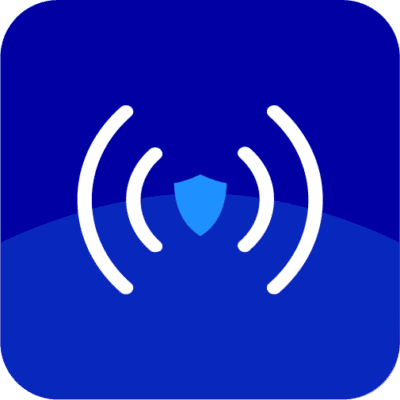 Push to Talk App
Developed for the most demanding of times
All users want a device that is instantly responsive to their needs, even if those needs change in a split second.
The Lifeline team developed the push-to-talk app not only in response to the discovery of a lack of functionality within the old tech, but in anticipation of problems yet to be faced. 
Push to talk
With a simple push of the PTT button, you can connect with participants in the selected talk group. You can see at a glance which users are active in the talk group. You can switch between talk groups in an instant in the user-friendly list of talk groups.
Multi group mode
Want to keep up to speed with multiple talk groups? In multi group mode, you can participate in up to three talk groups simultaneously. The calls of two other selected talk groups are displayed in the background while you actively participate in the main group.
Gateway Functionality
The Gateway is used to integrate existing (TETRA) communication networks into Lifeline. This connection incorporates voice functions and data from the existing network into talk groups and the Lifeline dispatcher.
Current status
Let colleagues know your current status. Available, busy, en route… Is a message high priority? This flag can be raised with ease to communicate that immediate action is required.
Location Service
This innovative function displays an overview of all users and their status. The user-friendly 'dispatcher' tracks all users in real time and constantly displays the user's current status.
Beep function
In critical situations where an instant response is required without impacting on simultaneous actions being taken, the Beep function can be employed. The user can simply transmit a sequence of beeps to forward or confirm a message.
Conference Call
An unlimited number of participants can join a conference call talk group, listening or contributing to discussions by means of an open connection. With a single push of the PTT button, the user can enter into an active conversation, exiting with the same simple push. Want to keep well-informed of what is happening in multiple locations or multiple situations? The ground-breaking 'multi-group' mode allows you to keep up-to-date with what is going on in numerous talk groups. You can establish priorities so that key groups are pulled to the forefront.
Alarm function
In emergency situations, a user can report an emergency to colleagues and the control centre at the touch of the button. A single press of the emergency button will activate the alarm function and inform colleagues and the control centre. From then on, all recipients will hear what is happening on site, the location will be displayed, assistance can be started and help brought in.
Accessory Programmer
Even in the same industry we all have slight variations in how we operate. Lifeline accessories have been developed to match the needs of individual users. The Accessory Programmer allows users to pre-set, program and link accessories to the Lifeline platform in a way that best suits their working practice.
Individual call
At times there needs to be the capacity to be the calm at the centre of a storm, to shut everything else out and communicate one-on-one, to formulate a solution or share critical information uninterrupted. The contact list can be used to set up one-on-one calls without the intervention of third parties. In urgent cases, where the storm alters course, the dispatcher can intervene in one-on-one calls.
Radio controller
An ingenious development by the Lifeline team where Lifeline uses its own unique Radio Controller to allow TETRA portable radios to be operated remotely via a smartphone or tablet. The portable radio and Lifeline are operated using a single device.
Push to talk for 4G and 5G without compromise
Mission-critical and business-critical processes rely on good, reliable connections.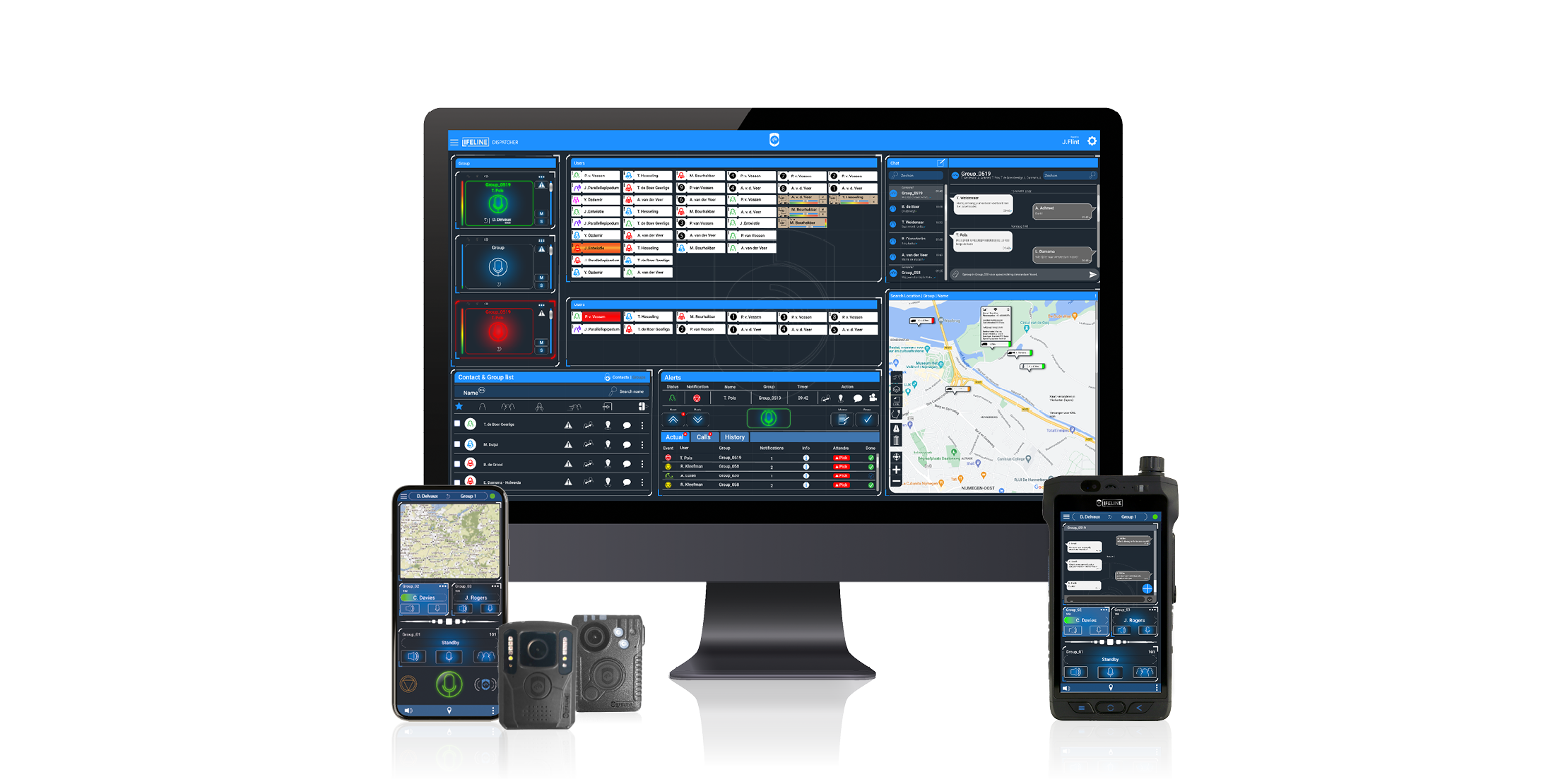 Accessories for Lifeline
Designed for enhance productivity and and safety
Accessories are an integral part of Lifeline as an end-to-end solution. The accessories are designed to ensure the optimal operation of all functions. Traditionally attention has been directed on the need to connect and reuse specialist, often prohibitively expensive, portable radio accessories. The Lifeline accessories empower users to use their familiar audio accessories without compromising on call quality.
L-P1
---
The L-P1 enables wireless operation of the Lifeline PTT app. The innovative PTT button makes use of the latest Bluetooth Low Energy technology (BTLE). The button runs off its own independent button cell power source which has a  two year lifespan and is easily replaced.
1 PTT push button
Automatic pairing with Lifeline application
Adjustable range
Adjustable (own) ID)
Programming is retained even if battery is replaced